Roof Inspections in Houston
So your ceiling is leaking. Unless there is a problem in your heat pump or other HVAC equipment, it probably means you have a roofing problem. However, short of simply replacing the entire roof, it can be hard to find a leak. Water rarely drips straight down. Instead it finds studs and beams and follows them down into the home's interior. So the source of the leak, from both location and cause cannot be determined just by looking at water dripping from the ceiling.
For small roof leaks, you may never notice because the water runs over such a long portion of your internal structure that it gets absorbed before it chips any paint or causes any other blatant damage. Water in the attic can cause serious problems. Moist areas always have problems with mold, but in the attic water can start to degrade your insulation.
When trying to find a leak, roofing companies follow these basic guidelines. First any contractor or experienced roofer will inspect roof drains in the area. Especially in flat roofs, clogged drains can lead to standing water. The roof is not made to work underwater. It is designed to wick water off as quickly as possible while keeping the interior dry. A drain is not waterproof because it is only expected that water will flow straight down it.
For composition or asphalt shingles, you can run a blade along under the shingle. If it stops about an inch in, it is probably sealed with tar, but if it goes further there is a good chance that this could be your leak source.
Penetrations are the most common leak sources according to roofing companies. Often these penetrations were added after the roof and were not sealed properly. All roof penetrations need special attention because they are weak points in the roof. A combination of flashing, pitch and roofing materials is recommended by roofing companies.
The next place to look is the attic or crawlspace. This will get you closer to the source of the leak before water starts running everywhere. Sometimes problems with duct work or plumbing cause leaks that you think are roof leaks. On steep roofs, exposed nails can rust and cause holes for water to leak in. Accumulated debris can also cause water damage. Clear nests and sticks near chimneys and other obstructions. Swamp coolers with leaking pans will dribble water on the roof and shorten its lifespan significantly.
Think if any contractors were working on the roof around the time it last held up. HVAC contractors, electricians and the like might have added equipment or damaged something in the ceiling. Dropped tools are a leading cause of roof damage. The thin inner roofing material is not made to handle a heavy roofing hammer. In those cramped spaces it is easy to pull flashings loose and cause other roof damage.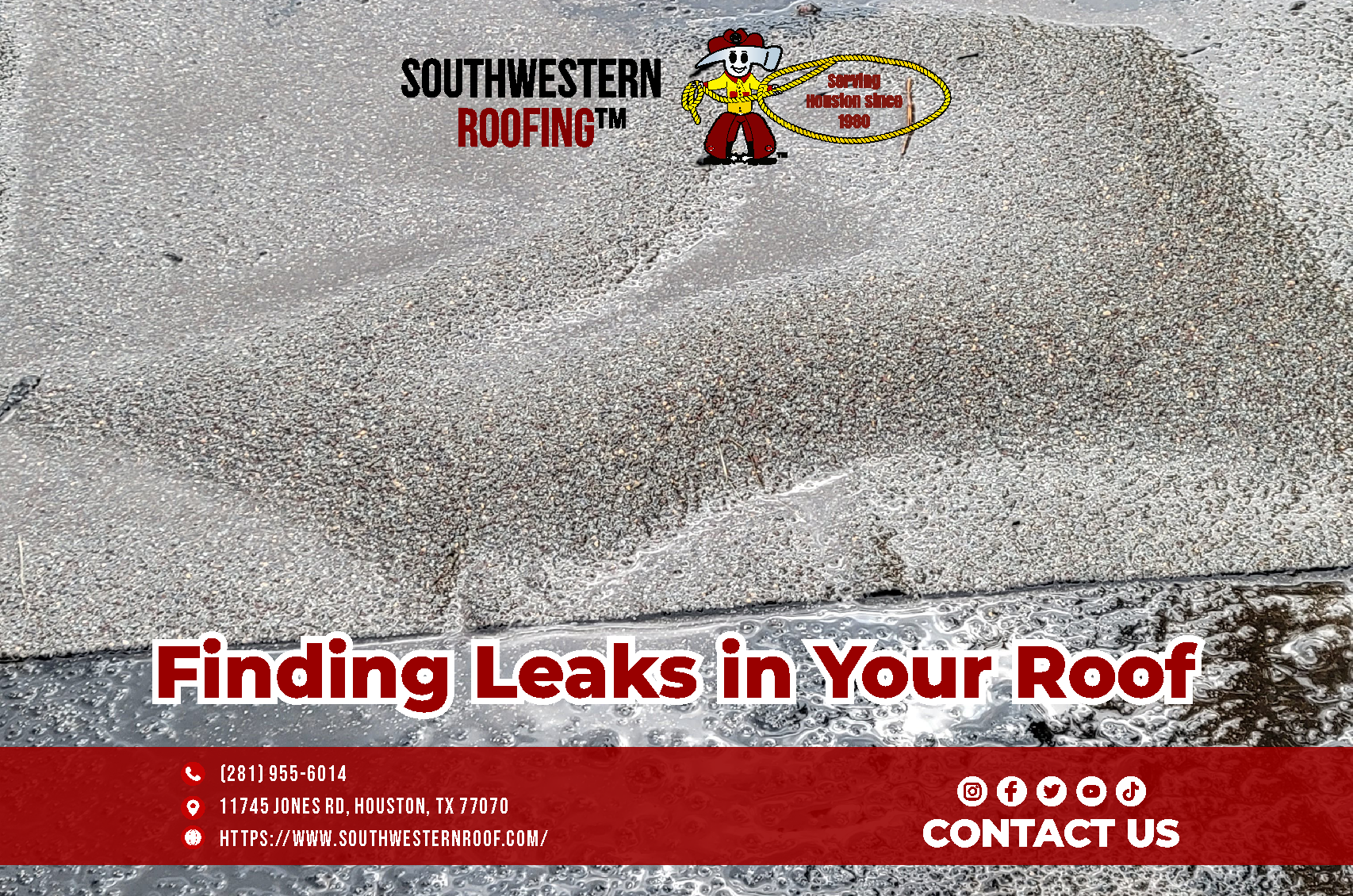 Source: ezinearticles
Southwestern Roofing: We had our humble beginnings, but our goals have always been the same: To offer quality workmanship at a fair and reasonable price in addition to always treating each of you with honesty, integrity, and respect. Meeting with you, sharing ideas, and helping you achieve that goal has been a welcomed privilege.
Roofing Company in Houston
Southwestern Roofing in Houston, Roofing Company in Houston, Roof Replacements in Houston, Roof Installations in Houston, Roof Repairs in Houston, Routine Roof Maintenance in Houston, Roof Inspections in Houston, Window Replacements in Houston, Patio Installations in Houston, Siding Replacements in Houston, Fence Replacements in Houston, Remodeling in Houston, Exterior Painting in Houston, Room Additions in Houston, Deck Installations in Houston, Gutter Installations in Houston, Exterior Repairs in Houston, Fence Installation in Houston, Free Roof Inspection in Houston, Free Residential Roof Inspection in Houston